June 27th, 2011
Boy Wonder
Kansas City Royals +142
June 26th, 2011
Boy Wonder
Boston Red Sox -150
June 20th, 2011
Boy Wonder
Pitsburgh Pirates -110
You Gotta Make Your Own Luck
June 10th, 2011
Boy Wonder
so the Kentucky Derby was won by a first time dirt starter and the Preakness was won by a horse that looked like he has just been in a schvitz and was foaming at the mouth before getting in the gate. Add in the fact that this is a historically slow group of 3-year olds, and figuring out this year's Belmont Stakes will be almost as difficult as figuring out whether the 10-year is a buy or sell at 2.95%. The NYRA promoters are billing the race as an "EPIC RUBBER MATCH between Derby winner ANIMAL KINGDOM and Preakness winner SHACKLEFORD." That is good for selling grandstand tickets and ad space, but it wont help you. Ignore the noise, focus on the prize, go for the glory. Advice from Your resident Horseman: POST POSITION 1) NEHRO 6 Will be boxing in 2) MASTER OF HOUNDS 1 an exacta/trifecta 3) ANIMAL KINGDOM 9 >>> LONG SHOT – BRILLIANT SPEED 5 (GRADE 1 WINNER OVERCAME TROUBLED DERBY TRIP TO FINISH WITHIN SIGHT OF THE WINNER. SEEMS TO GET BETTER AS HE GOES LONGER) KEY FACTS & FIGURES * The Belmont Stakes winner is draped in a blanket of white carnations (also the official drink of the race until 1997, when it was changed to the Belmont Breeze) * This is the first time since 2005 (won by AFLEET ALEX) that both the Derby and Preakness winners (ANIMAL KINGDOM, SHACKLEFORD) will run in the third leg of the Triple Crown. It is the first time in Belmont Stakes' history that the race will feature the top 7 finishers from the Kentucky Derby * Following a bad trip and shoeing problems in the Preakness, MUCHO MACHO MAN (10-1) gets a switch to 2010 Eclipse Award-winning jockey Ramon Dominguez * BlueGrass Stakes winner BRILLIANT SPEED (15-1) is the only horse in the field of 12 (outside of the Derby and Preakness winners) to have a Grade 1 victory to his credit * The Belmont Stakes is often called the "Test of Champions" due to the power and stamina required to conquer the grueling distance, sweeping turns and deep, sandy track. * In the previous 142 runnings of the Belmont Stakes, the favorite has won 60 times (42.3%). However, this has not happened since 2005 * Geldings (RULER ON ICE & MONZON) win about 2-3% of triple crown races, about the same percentage as fillies * No horses in the field of 12 have significant experience on off tracks * The weather forecast for race time is 70 F with a 60% chance of T-storms
May 6th, 2011
Boy Wonder
here's who i'm boxing in exacta/trifecta/superfectas: Mucho Macho Man Nehro
midnight interlude
Dialed Inn
> Aaaaaaaand we're back! With the scratch of presumed favorite Uncle Mo and a
> litany of top prospects out from injury/poor performance, this year's Derby
> field is WIIIIIDE open. Worth noting that, since 1979, the favorite has won
> only 4 times. Should be tremendous value tomorrow, it's just a matter of
> navigating through the proverbial mud. So, without further ado…
>
> Advice from our resident Horseman:
>
> POST POSITION
> 1) MUCHO MACHO MAN 13
> 2) NEHRO 19
> WILL BE BOXING IN AN 3) MIDNIGHT INTERLUDE 15
> EXACTA/TRIFECTA/SUPERFECTA 4) DIALED IN 8
>
>
> LONG SHOT – COMMA TO THE TOP 6
> (22K PURCHASE IN APR '10 HAS EARNED 779K,
> THIS GELDING GETS THE SENTIMENTAL PICK)
> KEY FACTS & FIGURES
> * The Kentucky
> Derby winner is draped in a blanket of red (RED) roses, a tradition
> that dates back to 1896. This is why the race is commonly
> referred to as the "Run for the Roses"
> * The official drink of the Kentucky Derby is the Mint Julep, a delicious
> concoction of Bourbon, simple syrup and fresh mint served over
> crushed ice * No horse in the #1 post (ARCHARCHARCH this year) has won
> the Derby since Ferdinand in 1986. No horse has won from the #19
> post (NEHRO) since 1900 * Calvin Borel (on TWICE THE APPEAL) has had the
> mount for 3 of the last 4 Derby winners: STREET SENSE ('07), MINE
> THAT BIRD ('09), SUPER SAVER ('10) * Only DIALED IN (4-1), SANTIVA
> (20-1), and SHACKLEFORD (12-1) have won races at Churchill Downs
> * 71 Derby winners
> lifetime have had a 2-word name (52%) * The weather
> forecast for race time is 66 F with a 60% chance of T-storms
>
May 3rd, 2011
Boy Wonder
Zig Zag Theory
Boston Celtics +5
Parlay 1unit pays 1.54
Boston Celtics +5
Oklahoma city ML -300
April 14th, 2011
Boy Wonder
28-19 overall ATS 59.6% on the Tourney
Will be returning this Weekend With NBA Playoffs Action!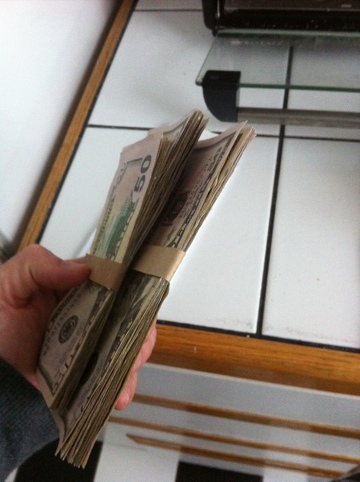 April 2nd, 2011
Boy Wonder
The Hero loves Kentucky But Boy Wonder Loves Kemba!!! fuck the hero!!!
Vcu all of America is blowing butler 2 pt line move = easy money VCU!!!
Uconn
March 26th, 2011
Boy Wonder
Florida -4
Uconn -2.5
Take what u need from the fucking man!!!!
March 25th, 2011
Boy Wonder
North Carolina -4
Richmond +10.5
Kentucky +6
Florida State -4